To achieve productivity with a digital asset management (DAM) platform, your business must have processes in place to ensure it stays organized. Proper file naming, folder utilization and security protocols are critical for organizational success.
Are you aware that people waste an average of 1.8 hours a day just looking for information?
No matter the size of your company, chances are you have documents, videos or presentations that you need to keep track of—and it can be frustrating for your distributors and customers to locate these files if they are disorganized. These files are valuable resources, so it's crucial to find a way to properly organize and distribute them.
Fortunately, with a digital asset management (DAM) platform,​ you can easily organize your digital assets and provide solutions for your distributors or customers. To maintain a high level of organization, though, it's important to have processes in place for file naming, tagging and search, as well as security protocols.
Continue on to learn four ways to keep your digital assets organized within your DAM platform.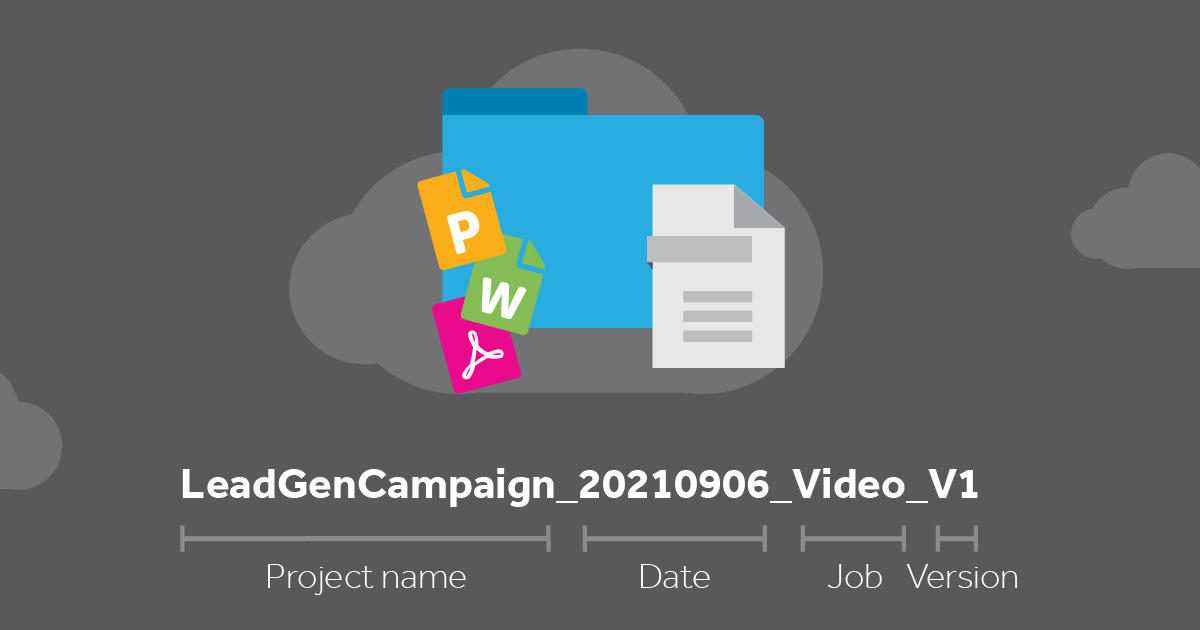 Name Your Files
File naming plays a key role in keeping your DAM organized while creating operational efficiencies for your customers and distributors. When naming your files, be sure to:
Stay consistent with your file naming structure. While there are many ways that you can name your files, choose a process that makes your files easy to find. It's important to maintain consistency with your file naming setup; however, you should also evaluate the system every so often to ensure it is still aligning with what your company needs.
Use capital letters to break up words rather than spaces. Spaces may make it harder to find a file, plus removing them reduces the length of the file name. You should also avoid special characters, as some software platforms may not be able to identify files with these items, which would directly impact file access.
Keep file names short but meaningful. Long file names mean long file paths and long URLs, which increase the chances of errors. Instead, consider utilizing abbreviations that are universal within your organization. For example, lead generation could be shortened down to just lead gen; however, you should ensure that all users understand what it means so they can easily identify the file.
Ensure that your files are dated properly. When using a date in the file name, arrange the date "back to front" and in this format: YYYY or YYYYMM or YYYYMMDD. Listing the dates in this order helps maintain the chronological order of the records when the file names are listed in the file directory; this helps when trying to search for the latest dated record.
Utilize version numbers. For easy identification, the version number should always appear in the file name. Some files go through several versions, so you'll want to be able to differentiate between drafts and the final version by giving them each their own number and designation. The last thing you would want is an older file version to be accessed and utilized.
With these best practices in mind, your file name should look similar to this:
Project name  Date  Job  Version
For example, a video that was recorded on September 6, 2021 for a new lead generation campaign could look like the following:
LeadGenCampaign20210906VideoV1
LeadGenCampaign-20210906-Video-V1
LeadGenCampaign_20210906_Video_V1
Once your naming system is established, it's important to train your distributors and customers on how it works and how to locate files. We recommend setting up a reference guide or a training session to ensure your processes are understood.

Organize Your Digital Assets
Once you've established your file naming process, determine how you'll organize your digital assets into folders and subfolders. How you organize your digital documents usually depends on your organization's business model. For example, if you manufacture medical devices, it makes sense to organize your assets by device type; however, if you're servicing several medical centers, it makes sense to organize your assets by location.
When organizing your files, make sure to:
Develop a folder structure template. Having a visual cue can help show distributors and customers how folders are set up.
Use keywords when naming folders. Some DAM platforms offer intuitive search features like keyword generation, so by adding appropriate keywords to the name of a folder, you can streamline a file search.
Avoid Mac-specific options. This is especially important if you have customers or distributors who may use Windows instead of Mac applications. Forego color coding, custom icons and select special characters, which can be used on Mac systems but not always on Windows.
Ensuring that your assets are organized and are easily accessible should be your main priority but having security protocols set in place is also a necessity.

Set up Security Protocols
Adding security protocols to your DAM is critical for protecting your organization and its assets. With most DAMs, you can add a level of security through secure login procedures and ensure that only those permitted to use the platform can access it. Some DAM platforms even allow for different levels of access that can be defined for each user; this means you can restrict who can read, edit and replace documents on a file-by-file basis.
DAM solutions can also help keep external threats out. Sharing information via email or through a cloud-based server can be useful—but they are also vulnerable to security threats. Make sure to look for a DAM that offers features like two-factor authentication and encrypted data to increase security. Not all DAMs offer the exact same security features, so ensure you select one that will keep your assets safe.

Ongoing Solutions
Your digital data plan is only successful if you continue to adapt and train any users.
Consider taking these steps to ensure the long-term success of your DAM:
Create a reference guide. Supply distributors and customers with a reference guide for folder organization and naming conventions. Be sure to put it on your DAM so it's easy to access. It's also helpful to discuss this during the onboarding process to help familiarize new stakeholders with your processes.
Perform regular file audits. Auditing your files can help ensure the organization's plan is being implemented as it should be. Hold the team accountable for sticking to the protocols and touch-base with them to see if the system is working or if they have any suggestions for optimization.
Be willing to change. If you find along the way that there are better ways to organize your digital data, don't be afraid to implement them! You ultimately want to minimize document search time and keep data flowing smoothly, so make changes to your structure and setup, as needed. Just ensure that any changes are thoroughly communicated with all applicable stakeholders to avoid confusion.
Following these steps can help ensure that your DAM stays organized over time—but choosing the right platform also plays a huge role in this success.

About Konvert™
Konvert™ is a subscription-based, B2B SaaS platform that provides businesses with a strong digital asset management solution. Our DAM can help you store, manage and share digital assets—making it easy for distributors, as well as customers and prospects, to utilize digital data through intuitive search, tagging and filtering options. You can also track the usage of your digital assets through advanced metrics analysis tools, allowing you to create more content that resonates with your customers.
With Konvert, you'll experience the power of:
Tagging and filtering: Easily locate your assets with our unique tagging features
Single source of truth: Centralize your assets to improve your content access
Security: Control access of assets through user permissions
File sharing: Create a secure environment to share assets quicker
Thumbnail previews: Get a quick glimpse of your files
Rethink how you're using digital tools for B2B growth. Contact us today.
Sophia Fisher | sophia@konvertapp.com
Employees spend 9.3 hours per week on average searching for and gathering information.
-McKinsey