Gaining Cross-Business Unit Engagement from Customers
Dana Aftermarket is the aftermarket branch of Dana Incorporated that serves light vehicle, commercial vehicle and off-highway equipment markets across the globe. In an effort to educate distributors, technicians and installers about Dana's products, the company partnered with Konvert™ to implement the Dana Training Academy.
By using the Konvert learning management system (LMS), Dana Aftermarket offers ongoing training initiatives while engaging with its customers. These training initiatives include courses designed to educate its customer base while also cross-promoting products from different sub-brands within Dana, including:
Victor Reinz®
Spicer Parts®
Spicer Select™
This opened up Dana's pool of interested prospects, which allowed the company to grow its audience base and acquire more leads for its marketing campaigns.
Dana has gained first-party data on who is engaging within the Dana Training Academy, including name, email, occupation and product interest.
Launching National Sales Promotion Campaign Initiatives   
Dana Aftermarket took its education efforts one step further by creating a "Learn and Earn" campaign within its National Sales Promotion Campaign. This campaign effectively incentivized customers and prospects to register for the learning courses to then be entered to win prizes. This initiative not only enhanced Dana customers' knowledge of Dana Aftermarket products, but it allowed the company to gather prospect information from leads who registered, as well. This curated strong opportunities to remarket to these individuals and offered them additional training options while cross-marketing Dana Aftermarket products and providing updates on any recent company or product news.
On average, the Dana Training Academy experiences 3.5 user signups per day.
The Dana Training Academy offers unique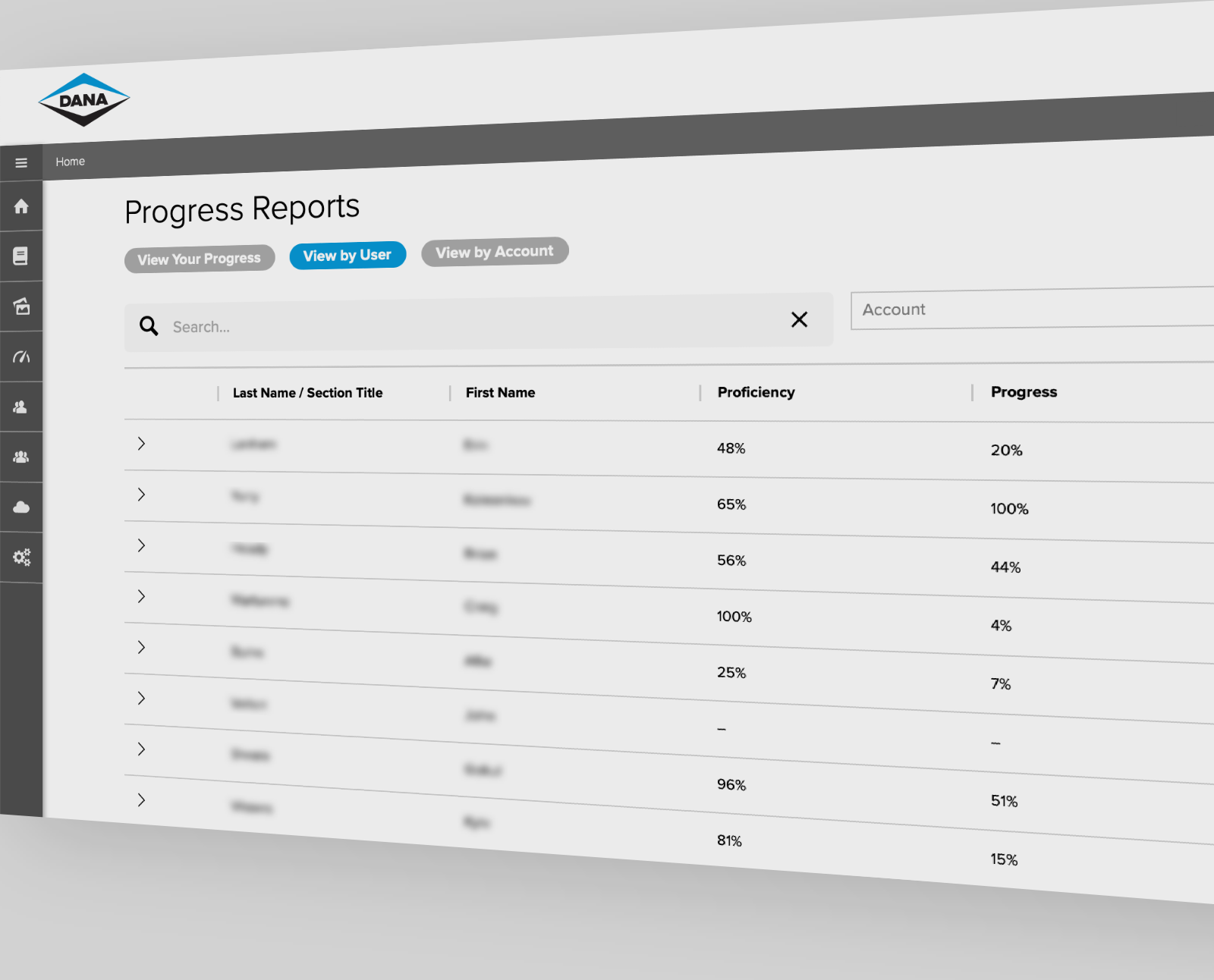 opportunities to engage new people and train new prospects while being a strong data-gathering tool. Dana Aftermarket is able to gain valuable information, including product interests, occupation and contact methods. This data will help the company develop more modules based on their customer needs—ultimately tailoring Dana Aftermarket's content for long-term engagement with target audiences, as well as providing guidance on:
How and where to place media and content
Additional content creation opportunities through survey feedback
Remarketing opportunities with gathered customer information
Konvert's intuitive metrics reporting also allows Dana Aftermarket to monitor usage of its LMS to learn which content is resonating with audiences to help guide long-term creation.
By tying in this National Sales Promotion Campaign with its training initiatives, Dana Aftermarket was able to evolve its internal education platform to a multi-brand cross-function for internal and external audiences to support sales, lead generation and overall business growth.
Almost 3,000 hours of total training time have been completed in the Dana Training Academy over the course of two years.
Get Started with Konvert™
Looking to drive sales campaigns through the integration of helpful educational content? Contact us today to learn how we can help streamline the process.
Sophia Fisher | sophia@konvertapp.com