Digital asset management, or DAM, provides an effective method of storing, managing and sharing files within an organization. Rather than make this a long, complicated process, explore how your organization can benefit from digital asset management software and its features—saving you and your employees time and energy!
Store Important Content
Where does your organization currently keep documents, files and other private content? Are you confident that these files are secure, or are you nervous that their safety could be compromised? Your content should be easy for you to access, but of course, not for others outside of your organization.
Cloud-based applications store your files on the platform while allowing you to access them at any time, in any place. All you need is a web browser to log on and get to your files! Digital asset management systems also make it easy to store a large number of files, accepting PDF, TXT, image files (GIF, JPEG, PNG, EPS, SVG), video files (MP4, WMV, MOV, MP3), Microsoft Office and Adobe files.
No matter which type of files you're storing, or how many, you can rest assured that your content is safe and secure—yet simple to access whenever you need it.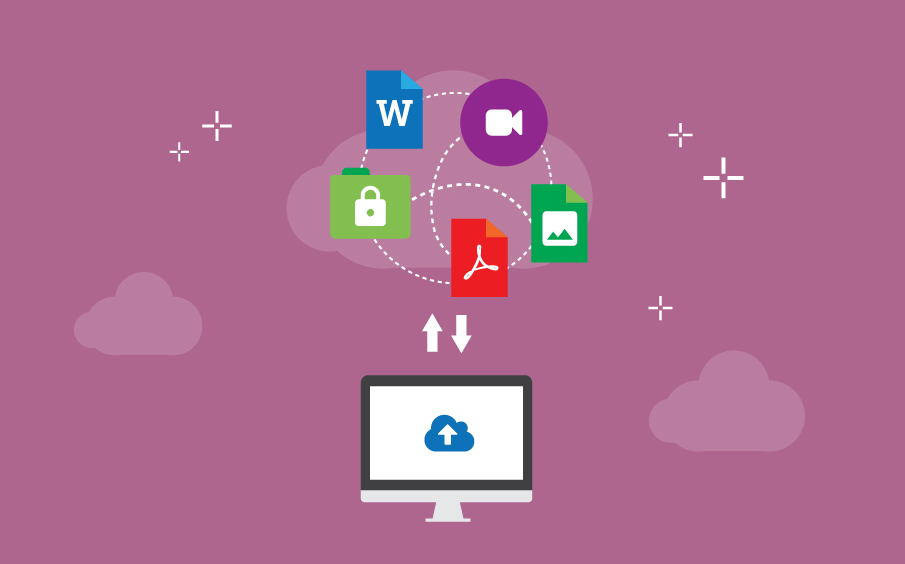 Find the Information You're Looking For
Did you know that, on average, employees spend 19% of their work week searching for files and information they need?
Your organization can cut down on time wasted with intuitive search, allowing you to categorize your files and include tags, keywords and keyword phrases. With this feature, your employees can type in what they're specifically looking for rather than spend valuable time scrolling through files that aren't relevant to what they need. Digital asset management users may also search for content by file type, and thumbnail previews can be included to make the search process even more simple.
Edit and Share Files
Is managing your files a hassle? What about making changes to content and sharing different versions?
Digital asset management software comes equipped with a content management system (CMS) function, making it easy to edit files. When any changes are made on a file, it is updated across all platforms so that users have access to the most current version. But what if I don't want certain users making changes to files? The DAM platform lets you assign users specific permissions, granting them access to view and edit files of your choice.
Sharing files within traditional storage platforms can be a long, frustrating process—but cloud-based applications allow you to simply drag and drop the content you want to share. This method is much faster than back-and-forth email communication, saving more time in the file-sharing process.
Choosing Your Digital Asset Management Software
Time is valuable for all organizations. And instead of wasting hours attempting to upload, edit and search for important content, you can trust Konvert™ digital asset management to do it all for you. Plus, our DAM platform is branded and customized to match your organization and its needs!
On average, employees spend 19% of their work week searching for files and information they need.